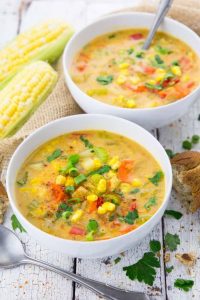 Late summer and fall is a great time for corn chowder. I love making this recipe
after BBQing the corn on the grill and brushing with oil and balsamic,
then cutting it off the cob. This gives the corn a great depth of flavour.
I cook this corn for one meal with other sides and then use the extra corn for chowder.
I plan to serve this on Thanks Giving to our small gathering. A holiday suggestion, if you don't over eat you will allow for good and comfortable digestion. After all we are a Digestive Centre.