We were at the Market on Saturday and as we were driving up to find a parking spot. When we spied a fresh bundle of leeks blocking our way into our parking spot. Someone must have been packing their produce from the market and dropped there fresh leeks. 
Well I have to say we did look around and see if an owner could be seen, but no one was around. My next comment was Leek soup is on the menu for us tonight. So can I go as far as to say we had a free lunch!
You will love this recipe, it's easy, fast, nutritious. Nothing better than that, I say.
Serves: 6 to 8 servings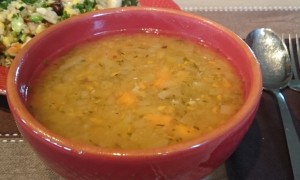 Ingredients:
2 large or 3 smaller leeks / cut lengthwise and clean (Discard the green stems)
2 tablespoons of avocado oil, olive or grapeseed oil
6 cups of purified water
2 med size sweet potato (I found purple sweet potato in the
organic market and they were wonderful) wash and dice into ½
inch squares
dash of marjoram or oregano fresh or dried
½ teaspoon of dried thyme or 2 teaspoons of fresh thyme
½ teaspoon of dried chili flakes (hint add more if the soup is to
sweet from the sweet potato, the chili's won't make the soup hot
to the taste. It will only balance the sweet taste)
salt and pepper to taste
Directions:
In a soup pot add the oil and the fresh leeks. Cook in the
covered pan for 10 min. over low heat. This will wilt the leeks.
Add the water and sweet potatoes. Bring to a low simmer and
cook for 20 mins. Take half of the soup and put it into a blender
and blend till pureed. Return to the soup pot and the rest of the
soup. Add to the soup pot, spices, salt a pepper to taste. Simmer
for 5 to 10 mins.
Hint: Run a submersible blender a couple of spots in the soup to break up some of the leeks and sweet potato. Keep the soup chunky.
Serve this wonderful flavoured soup with great confidence and a
big smile. Garnish with fresh parsley is a great presentation.