Do you eat a typical North American Diet, filled with processed foods and sugars?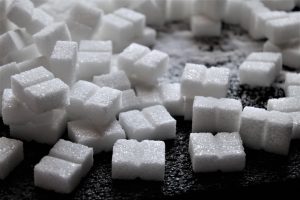 Did you know we consume more sugar then needed on average. It's recommended that women limit sugar consumption to 6 teaspoons (25 grams) per day and men limit to 9 teaspoons (36 grams) per day. However, we are consuming 20 teaspoons, or 80 grams, of sugar a day on average.
Sugar contributes to so many health issues starting with the gut.
Our gastrointestinal tracts work hard to keep us healthy and happy. When gut health is compromised, we can face major health consequences.
Our gut microbiome is constantly at work to maintain good digestive health.
Why do we care about our gut health? Good bacteria in our gut can lower inflammation, make us happy, lean, and give us longevity. An abundance of "bad" bacteria in the gut, can lead to inflammation, digestive upset, acne, and other health issues.
Sugar promotes the growth of bad bacteria in the gut, restricting the growth of beneficial bacteria and thereby disrupting the gut flora balance. It also creates inflammation in the gut, which can lead to intestinal permeability, nutrient malabsorption, and even an autoimmune response in many people, which may manifest itself as allergies, skin conditions, or even a full-blown autoimmune disease.
Bacteria, however, need energy, and sugar can be broken down to provide this energy for the bacteria's growth. When a person has a high sugar diet, some of these sugars make their way into the gut microbiome, and this gives some bacteria the energy to multiply, throwing off the balance in the microbiome.
A diet that's high in processed food and added sugar can eliminate the beneficial bacteria in the human gut. The resulting imbalance can cause increased cravings for sugar, which further damage the gut.
Also a  diet that includes frequent consumption of added sugars is likely to lead to weight gain. Studies show that dietary-induced obesity creates changes to the microbial life in our gut. People who get calories from sugary foods may also be consuming less healthful nutrients, including fiber, from whole, unprocessed, no-sugar-added food sources. If you are interested in learning how to ease off sugar in the long term here is a FREE 5 Day Sugar Challenge
If added sugar is likely causing inflammation in the gut, what happens to your gut when you remove added sugar from your diet? If you eliminate foods that we know are damaging to the gut, like sugar, and what you're left with is foods that we know to be good for the gut, that will bring more balance to the gut.
What are some of the foods that promote "good gut" bacteria?
Apple Cider Vinegar
Kombucha
Sauerkraut
Mangoes
Yogurt
Kefir
Sprouted grains
Wild Salmon
Garlic
Onions
Bone Broth
Dark Chocolate
High Fiber Foods
We all want a healthy lifestyle and longevity, knowing how to look after your gut is a crucial part of a healthy life. Start by eating REAL WHOLE FOODS with a focus on fiber and fermented foods along with colon therapy.