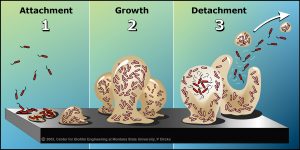 What does Biofilm have to do with Parasites?
As I write this blog post, my thoughts go to how poor a name Biofilm is.  Then giving it more thought it is actually kind of accurate. I guess it's not a good name because it's not trendy or catchy sounding. Maybe we should call it "body tarter".  Now I'm thinking the name is accurate, because it's very direct to just what Biofilm is a sticky film. When you brush your teeth every morning, you are removing Biofilm. For me that was an aha moment! So that is what Biofilm is? It isn't a mystical creature larking around in my body.
Biofilm is a collection of sticky film, that harbour harmful microorganisms all over our body. An easy way to explain, is to point out that dental plaque is a biofilm; also slippery film on a rock in nature is biofilm. It is a slippery build up that is natural and protects and harbours bacteria, fungus, mould and protists (algae). Biofilm forms in colonies throughout the body and also offer protection to parasite colonies.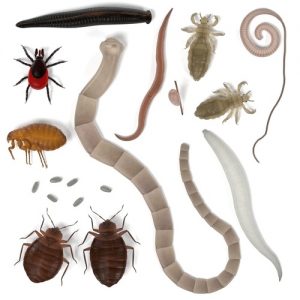 Biofilms are responsible for a number of diseases.  Biofilm gives bacteria, fungus, mould and parasites protection resulting in a resistance to antibiotics and your bodies natural immune systems. Biofilm colonies are very difficult to disrupt effectively.[1]
Inhibiting and breaking up unwanted biofilm accumulation allows for natural gut Immunity. Then your beneficial bacteria can maintain a healthy balance of good and bad intestinal bacteria. [2] In my own health journey, I have used our Biofilm and Parasite cleanse offered at out centre. I have seen a large reduction in parasites, inflation and a increase in bowel function and immunity.  So if you are looking to do a parasite cleanse, it is also important to address the biofilm issue as well.
In the Ayurvedic medical system Neem and Tulsi Holy Basil have stood the test of time and are well documented to inhibit unwanted biofilm. So that is why they are key supplements in our cleansing recommendations at Trust in the Process . Digestive Centre.  At our centre we also highly recommend Colonic treatment in combination with cleansing to help your body dispose of the detoxing of biofilm and parasites. This makes sure once you do all the work to dislodge body waste, then with the colonic it is removed effectively from the body. Leaving you with better health and a stronger immune system.
Need Support in your body cleansing
[1] https://www.ncbi.nlm.nih.gov/pubmed/23737302
[2] Dr. John Douillard article on Neem and Intestinal Biofilm https://lifespa.com/inhibit-intestinal-biofilms-neem/