Visceral Manipulation Relieves Symptoms of Pain, Digestive and abdominal Disorders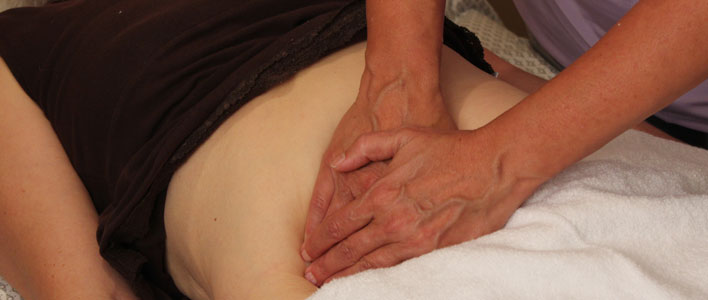 Visceral Manipulation, London, Ontario – Visceral Manipulation (VM) was developed by world-renowned French Osteopath and Physical Therapist Jean-Pierre Barral. Comparative Studies found Visceral Manipulation Beneficial for Various Disorders.
VM assists functional and structural imbalances throughout the body including musculoskeletal, vascular, nervous, urogenital, respiratory, digestive and lymphatic dysfunction. It evaluates and treats the dynamics of motion and suspension in relation to organs, membranes, fascia and ligaments. VM increases proprioceptive communication within the body, thereby revitalizing a person and relieving symptoms of pain, dysfunction, and poor posture.
An integrative approach to evaluation and treatment of a patient requires assessment of the structural relationships between the viscera, and their fascia or ligamentous attachments to the musculoskeletal system. Strains in the connective tissue of the viscera can result from surgical scars, adhesions, illness, posture or injury. Tension patterns form through the fascial network deep within the body, creating a cascade of effects far from their sources for which the body will have to compensate. This creates fixed, abnormal points of tension that the body must move around, and this chronic irritation gives way to functional and structural problems.
Imagine an adhesion around your colon. It would create a abnormal shape to your colon. For example, the adhesion could alter your motility, which could then create any sort of bowel dysfunction. This scenario highlights just one of hundreds of possible ramifications of a small dysfunction – magnified by thousands of repetitions each day.
Thanks to the dedicated work of Jean-Pierre Barral, a Physiotherapist (RPT) and Osteopath (DO), healthcare practitioners today can use the rhythmic motions of the visceral system as important therapeutic tools.
Barral's clinical work with the viscera led to his development of a form of manual therapy that focuses on the internal organs, their environment and the potential influence on many structural and physiological dysfunctions. The term he coined for this therapy was Visceral Manipulation.
Visceral Manipulation Benefits
Various Digestive and abdominal Disorders
Digestive Disorders

Bloating and Constipation

Nausea and Acid Reflux

GERD

Swallowing Dysfunctions

Chronic Pelvic Pain

Fibroids and Cysts

Dysmenorrhea

Bladder Incontinence

Musculoskeletal Disorders

Post-operative Scar Tissue

Post-infection Scar Tissue

Constipation and Gastritis

Persistent Vomiting