Specializing in Colon Hydrotherapy / Colonics
You only get one body! Keeping your insides clean to preventing illness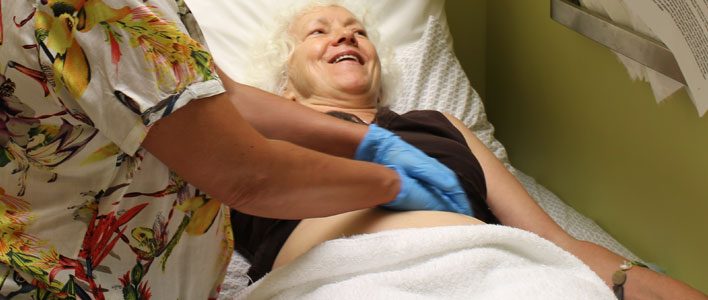 Colon Cleansing, Colon Irrigation, Colonics, Colon Hydrotherapy, what ever you want to call it, colon therapy is the most important step in maintaining or regaining vital health.
Based in London Ontario, Trust in the Process provides education and treatment in all areas of colonics or colon hydrotherapy utilizing a gentle method of cleansing and exercising the colon.
"Every tissue is fed by the blood, which is supplied by the intestinal system. When the intestines are dirty, the blood is dirty, and so are the organs and tissues. It is the intestinal system that has to be cared for first before any effective healing can take place."
~Dr. Bernard Jensen, Ph. D

Factors Leading to Colon Toxicity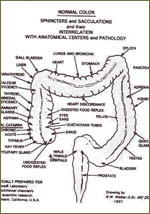 There are many contributing factors to autointoxication from a toxic bowel. Improper diet, insufficient exercise, stress, overeating and ignoring the "call of nature" can all lead to bowel problems and 'autotoxicity' (self-poisoning). Most of us , for instance, have had years of poor to average nutritional food. Much of our food is subjected to processing which includes refining, frying and over cooking. As a result of this food altering, the digestive organs cannot process the minerals efficiently and they are passed out of the small intestine into the colon as wastes. Incompletely digested food ferments and putrefies when remaining in the colon longer than a day. When this fermented waste combines with the body's own bile acids from the liver, carcinogens can develop into colon or rectal cancers. Enhancing the colon's ability to expedite the elimination of waste reduces the over all toxicity.
"Few of us realize that failure to effectively eliminate waste products from the body causes so much fermentation and putrefaction in the large intestine, or colon, that the neglected accumulation of such waste can, and frequently does, result in a lingering demise!"
~Dr. Norman Walker

Benefits of Health Counseling and Colonics
Colonics together with Health Counseling is a great combination for restoring the body's natural balance and good health. Colonics offer relief from a variety of disturbances by cleansing the colon of impacted and putrefied fecal matter. Constipation, diarrhea, fatigue, gas, headaches, irritability, skin problems, cold hands and feet, lethargy are among the problems people have found relieved by colon cleansing. Your sense of well-being is often dramatically improved with colon irrigations. You feel lighter, more energetic. The body can again assimilate food in the colon and better defend itself against disease. Natural peristalsis, tone and regularity are restored and many serious diseases may be averted through this gentle, sterile, scientific technique. Good nutrition regenerates and rebuilds the cells and tissues which constitute your physical body, greatly improving and restoring your overall health and wellbeing.
Health Counseling with Colonics will have a major effect on:
Allergies

Headaches

Appendicitis

Hemorrhoids

Arthritis

Nasal Congestion

Bloating

Colitis

Constipation

Poor Circulation

Depression

Poor Eyesight

Diarrhea

Premature Aging

Digestion

Fevers

Prostrate Trouble

Halitosis

Spastic colon

Nutritional Deficiencies

Abdominal pain

Discomfort or cramping

Alternating diarrhea and constipation

Distended abdomen

Mucus in bowel movements

Feeling as though bowel movement is incomplete

In extreme cases, nausea, dizziness or fainting